ART MEETS CINEMA
BACON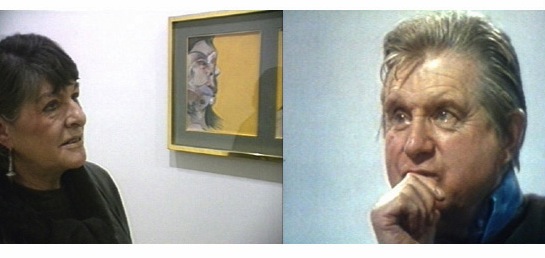 Meeting Francis Bacon in London in the sixties, Henrietta Moraes became the most painted of his female subjects. In interview in the Marlborough Gallery London, Henrietta recalls her impressions of the artist, which intercut with archive film footage of Bacon in interview, forms a final dialogue between model and artist. Screened at the Bacon Retrospective exhibitions at the Centre Pompidou Paris, Haus der Kunst Munich, and 'Bacon's Women' at Ordovas Gallery New York.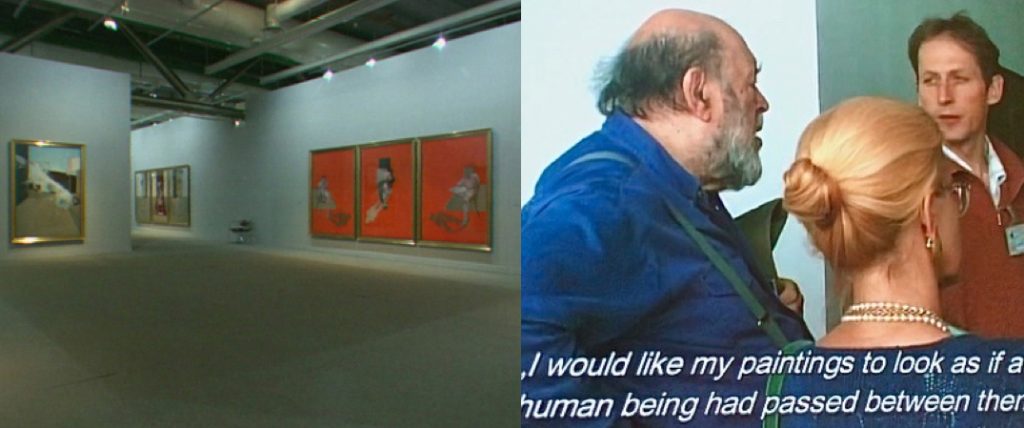 Shot at the Centre Pompidou, Paris, during the Francis Bacon retrospective, the film accompanies curator, critic and close friend David Sylvester, as he hangs the exhibition. Previously unpublished interviews between Bacon and Sylvester commentate the erection of this exhibition and form a final dialogue between artist and critic; a monument to Bacon's supremacy as a painter. Screened at the Coutauld Institute, London.
MANET
One cinematic shot depicts Manet's 'Execution of Maximilian'. In a single shot '1867' passes through the 18 months of historical and artistic events that led to Manet's four versions of the execution. Commissioned by the Metropolitan Museum of New York, The John Paul Getty Foundation and Channel 4.
REMBRANDT
Cast: Dominic Pinon, John Shrapnel, Maria de Madeiros. This film explores the profound effect his father's blindness had on Rembrandt and the way this influenced his work. Commissioned by BBC Television and Broadcast in 1992.
JARMAN
Shot in Jarman's studio in Dungeness, UK and screened at the Berlin Film Festival, in this revealing documentary, Ken McMullen creates an elegant portrait of artist and filmmaker Derek Jarman, based on an interview conducted by John Cartwright. The questions are unobtrusive, allowing Jarman to reflect on his major films. Despite the debilitating effects of serious illness, we see an artist with his inner vision unimpaired; humourous, self effacing and disarmingly charming.
AUTO DESTRUCT
METZGER
Gustav Metzger witnessed the rise of Nazism as a small child in Nuremberg and escaped to Great Britain aged thirteen. He trained as an artist before founding auto-destructive art in 1959. The scale of Gustav Metzger's achievements and his contribution to contemporary culture are clearly demonstrated in Ken McMullen's comprehensive film where Gustav Metzger speaks candidly and brilliantly of the influences which have shaped his own work, highlighting the importance of understanding the destructive impulses in human society.
BEUYS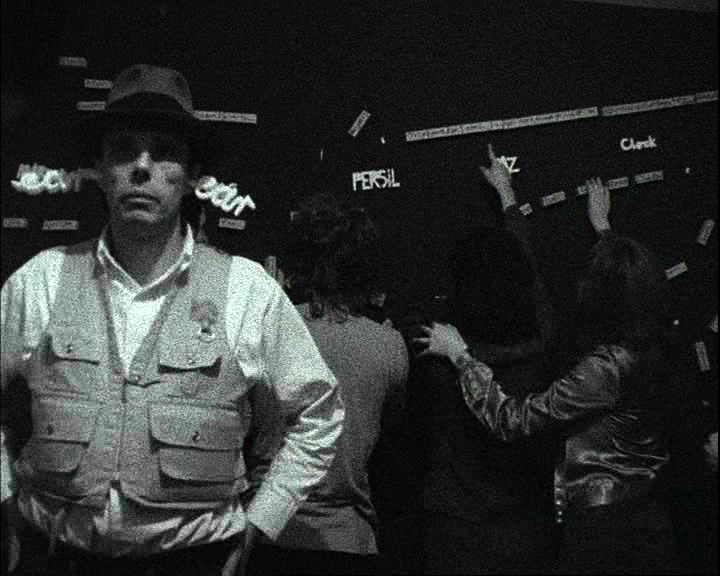 'Word Work', 'Discussions with a Gun' and 'Crowd Sculpture with Joseph Beuys' are live performances shot with Joseph Beuys in Düsseldorf between 1971 and 1972. First shown at the Tate Gallery, London in 1972 and at the Joseph Beuys Retrospective at Tate Modern.
DERRIDA
A dialogue between Pascale Ogier and Jacques Derrida, in an excerpt from the film 'Ghost Dance', explores the connection between cinema and psychoanalysis.
BERGER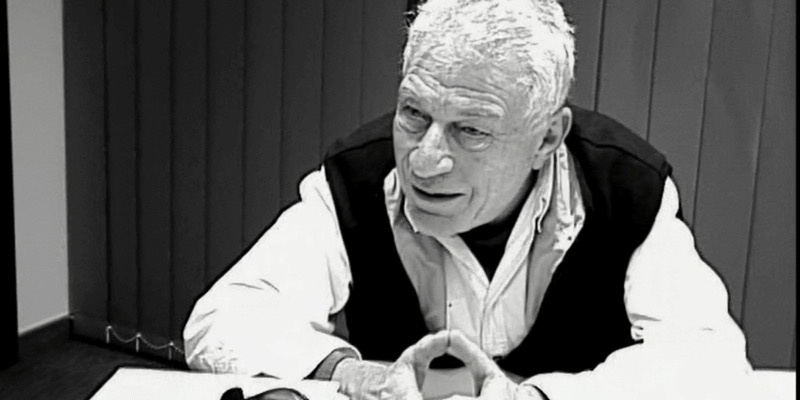 Ken McMullen brought John Berger, author of Ways of Seeing, to CERN to encounter the new physics and technologies to be found there. Berger arrived with the poem Happiness by Jorge Luis Borges and the following encounters found form in the film Art, Poetry and Particle Physics, screened at Tshingh University Beijing, Complesso del Vittoriano Rome, Centre d'Art Contemporain Geneva, Gulbenkian Gallery Lisbon, and P.S. 1 Contemporary Art Centre NY.
KNOEBEL AND STEINER
A break-in at Imi Knoebel's studio and two cups battle it out to Rudolf Steiner's 'Die Rätsel der Philosophie' in collaborations between Walter Dahn, Johannes Stüttgen and Boscher Theodor.
ART, POETRY AND PARTICLE PHYSICS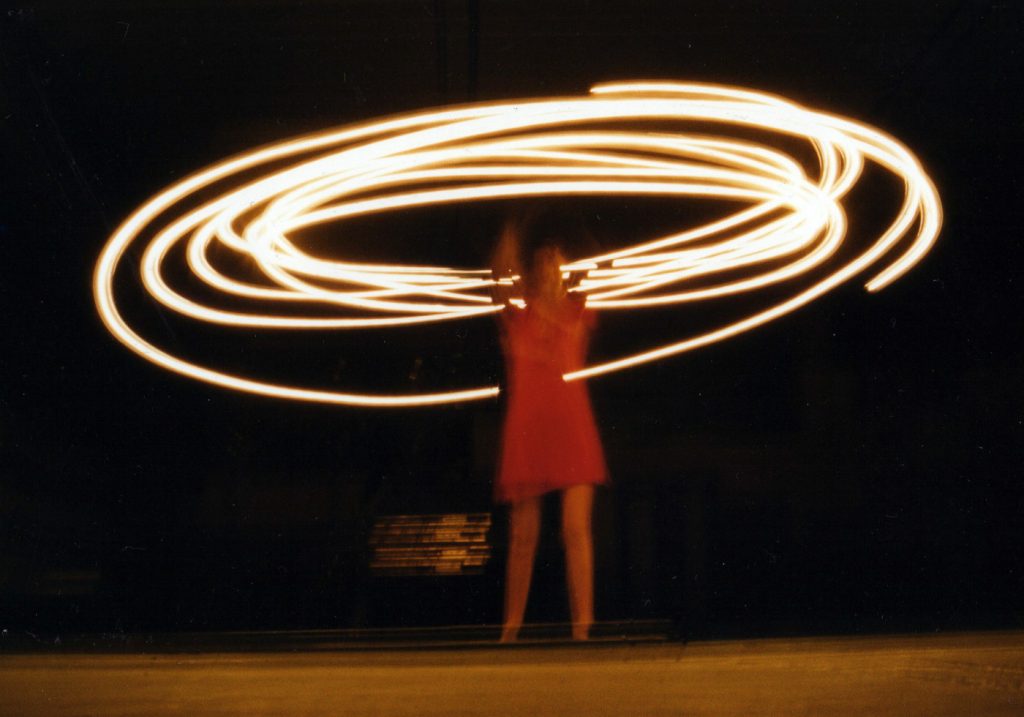 Shot on location in Particle Accelerator Number One, CERN, Geneva, 'Lumen de Lumine' is a meditation on solitude. A motion picture playing with quantum theory and the nature of light and near-miss particle collisions, this film turned the Torness nuclear power station into the largest ever public art installation in Europe. A collaboration between Ken McMullen and Martha Parsey, screened during the exhibition 'Signatures of the Invisible' at Atlantis Gallery, London, Tshingh University Beijing, Complesso del Vittoriano Rome, Centre d'Art Contemporain Geneva, Gulbenkian Gallery Lisbon, and P.S. 1 Contemporary Art Centre NY.
---
This exhibition of films on art and art cinema brings together the work of leading artists and thinkers in Europe, from Manet to Bacon, from Beuys to Metzger, Derrida and Berger with short films and installations by Ken McMullen, Martha Parsey, Walter Dahn, Boscher Theodor and Johannes Stüttgen that explore the relationship between film, art theory, philosophy and painting.
The exhibition runs from October 3rd- November 21st by appointment following current government guidelines.
Please contact the Space by e mail info@mphqprojectspace.com for more information. Press release with further information about the films:
Films appear by kind permission of Ken McMullen.